2012 World Horror Con Schedule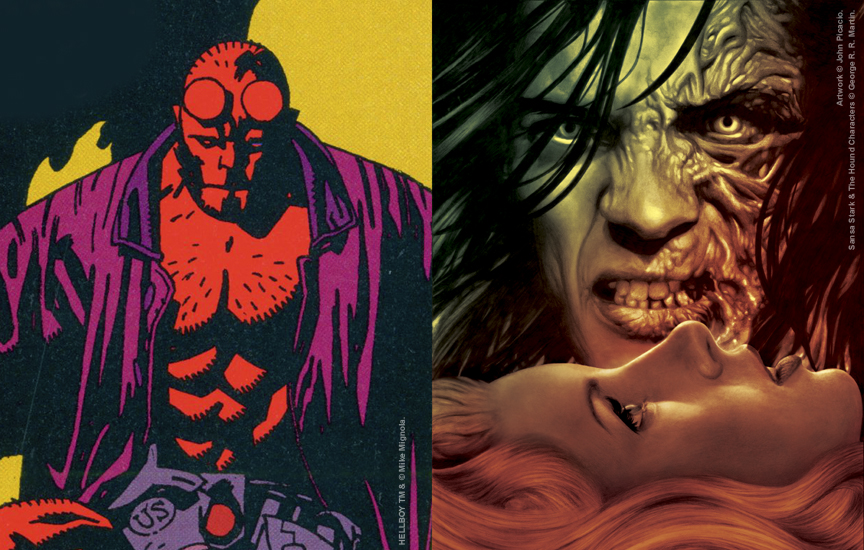 Left artwork:
Hellboy by Mike Mignola. Artwork © Mike Mignola.
Right artwork:
Sansa Stark and the Hound by John Picacio. Artwork © John Picacio. Characters © & TM George R. R. Martin.)
The preliminary 2012 World Horror Convention
programming schedule is here
, and wow -- it is LOADED with goodness. Below is where you'll find me.
Thursday, March 29th:
* 6pm / Opening Ceremonies -- I'm a Special Guest of this year's World Horror Convention, along with Guests of Honor Sherrilyn Kenyon, Mike Mignola, Scott Allie, P.N. Elrod, Joe R. Lansdale, Robert McCammon, and more.
Friday, March 30th:
* 12 noon / The Art of Mike Mignola -- I'll be interviewing Mike and bringing along a slideshow of his artwork that I'm assembling for the event. It'll be big, bold Mignola art with live commentary by Mike about the 'why's and 'how's of what he's created over the years. Should be a revealing look into one of the most influential minds in comics.
* 8pm / Mass Autographing
Saturday, March 31:
* 4pm / The Art of John Picacio -- I'll be presenting a slideshow focusing on the making of my artwork for the 2012 George R. R. Martin / A Song of Ice and Fire Calendar; Michael Moorcock's Elric; and more.
Memo to all fans of George R. R. Martin and A Song of Ice and Fire -- I will be world-premiering a very special new set of art surprises at this convention. WHC will be the first public place where these items will be available.
* 6pm / Artists' Reception
Sunday, April 1:
* 10am / The Good, The Bad, and the Ugly -- Joe R. Lansdale, Mike Mignola, Scott Allie, P.N. Elrod and I discuss some of our favorite horror/dark fantasy cover artwork, as well as some of our not-so favorite. Will be good times. :)